Natural SEO for a hotel: a decisive factor
Competition from OTAs
For the past few years, hoteliers have been confronted with new players who have grown considerably in a short period of time. OTAs (Booking, Expedia, hotels.com …) very quickly established themselves in the hotel market and used the dematerialization of reservation services to establish themselves as key players in the sector.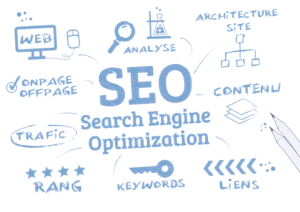 While large groups have mostly taken the turn of the web for several years, it can be complicated for independent hotels and tourist structures (travel agency, tour operator, etc.) to catch up with the accumulated delay in terms of visibility and online reputation. Today, we are all aware of the importance of the web for the hotel industry and its effects on turnover. Although OTAs undeniably have a significant advantage in terms of the means used, the independent hotel or tourist business manager is not doomed to remain helpless in the face of these web mastodons. Of course, these will always pay dearly for their paid positioning (type adwords ) In the search engines, but you can easily face them on another ground.
Natural SEO for a hotel
Natural linking (SEO) * plays a crucial role in attracting customers to the hotel establishment's website. For example, a page dedicated to tourist activities or notable monuments in the direct vicinity of the hotel is systematically used to channel traffic from customers who have made a search for the activity or monument in question, but who do not would not necessarily have thought of going to a hotel site to look for this info. When they meet there, they will also have access to the hotel's rates, and of course, the reservation tool. Example of the Hôtellerie de Malet, or the Villa Morelia, hotel in Barcelonnette
This method has proven itself and makes it possible to take advantage of a significant competitive advantage, many hotel sites not including this type of dedicated page. In addition, this page being written in several languages, the hotel site is positioned very effectively on search engines for requests coming from the country or from a browser using the language in question. You internationalize your hotel in a relatively simple and formidably efficient way.
* natural SEO  is the set of actions taken by the webmaster to obtain the best possible ranking on search engines. These actions are divided into two main categories: operations on the site that we wish to develop and operations "outside", consisting of "making people talk" about the site. The operations on the site will be mainly oriented towards optimization (keywords, loading time, cleaning of the code, writing of optimized content …) while the "external" actions will aim to build a solid link leading to the hotel website on the web. This is in place thanks to partnerships with similar sites (exchange of links – paid or not -, registration in specialized directories, writing articles with links on external pages, etc.)